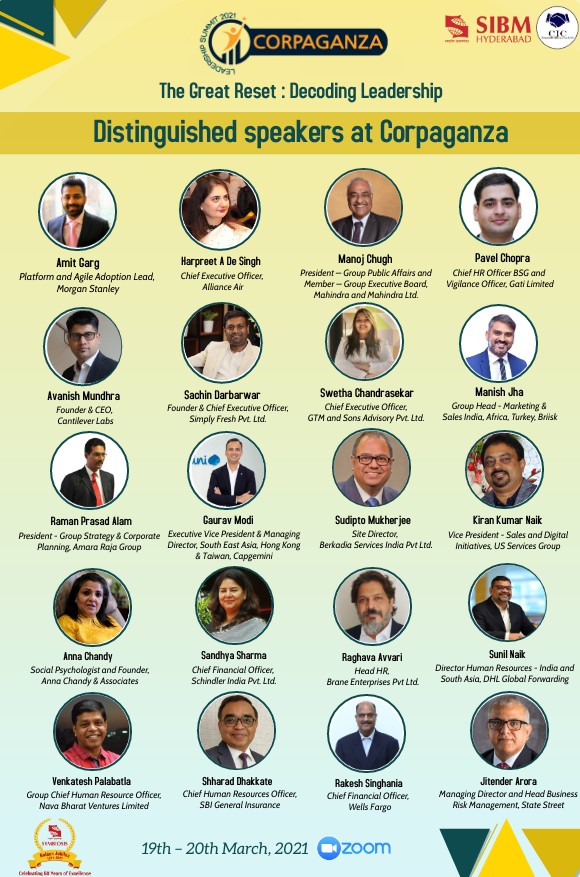 ABOUT CORPAGANZA 2021
CORPAGANZA, the Leadership Summit is an extension to the illustrious legacy of the SIBM- Hyderabad that provides the champions of change (students of SIBM-H), the platform to interact and learn from the industry leaders. The industry stalwarts offer first-hand knowledge, an insight into their vision that creates inquisitiveness in the minds of the students and allows them to explore the unending possibilities in the near future. The two-day Corporate Extravaganza will foster the future managers to envision from an industry perspective.
THEME- "The Great Reset: Decoding Leadership"
As we enter a new decade, one can sense enormous possibilities of growth and a strong resurgence. The Great Reset echoes strong sentiments that we are on the threshold of something exciting, extraordinary which requires astute leadership to marshal the resources at one's disposal. The leadership summit places a significant importance on the future leaders to expect the unexpected from the dynamic times that the corporate world is facing on a consistent basis.
Event Details:
Date: 19th and 20th March 2021
Timings: 10:00 am to 05:00 pm.
Platform: Zoom