Gender Sensitization
Event Name: Gender Sensitization
Objective: To spread awareness about gender issues and provide an environment with gender equity.
Outcome: The students got an in-depth understanding of what gender sensitization is and the need for building awareness around gender equality. They also understood the importance of gender sensitization with equal representation of male and female staff and students.
Report
Shakti, the Women Development and Social Responsibility Cell of SIBM Hyderabad, conducted a guest lecture for the MBA students of Batch 2022-24 and BBA Batch of 2022-25 on "Gender Sensitization" on 10th October 2022 from 01:40 pm to 3:00 pm at the Convention Hall. The objective of the session was to get an in-depth understanding of what gender sensitization is and the need for building awareness around gender equality. 
The session was hosted by Mr. Pratik Singh, and Ms. Himaja Addanki, members of team Shakti. It started by introducing the speaker Ms. Hima Bindu Achanta, the founder of 'Beyond103' an NGO at Loyola Academy, to help the underdeveloped tribal people. Ms. Bindu is pursuing a Ph.D. in Journalism, where the tribal study is her research specialization.
Ms. Hima Bindu started her presentation by listing the session's objectives. She briefly explained the purpose and significance of gender sensitization before leading an activity to help us become aware of the many gender preconceptions we hold in our thoughts. The speaker advanced the conversation by describing gender equality and how gender sensitization is necessary for everyone, not just one particular gender. She continued by outlining how we are required to act, speak, dress, groom, and even conduct ourselves depending on the gender to which we have been allocated in India. She emphasized how stereotyped ideas still remain in our society while outlining the ramifications and benefits of gender equality. She gave us a reality check on how we behave in specific ways that are considered apparent truths and thus are practiced unconsciously. She discussed the connection between masculinity and gender sensitivity as well as the persistence and need for the eradication of gender-based violence.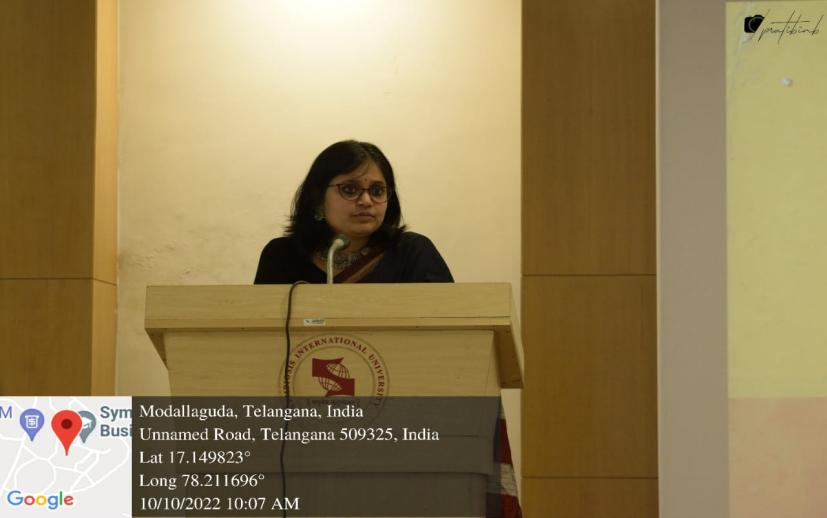 Ms. Hima Bindu Achanta giving her presentation on Gender Equality
The lecture was followed by a Question-and-Answer session where students asked questions regarding Gender Sensitization. The session was concluded by Dr. Ridhi Rani, faculty in charge of Shakti – The Social Responsibility and Women Development Cell, by sharing her views on the topic, then the vote of thanks was delivered by Mr. Pranav Popli, Student Head of Shakti (WDC).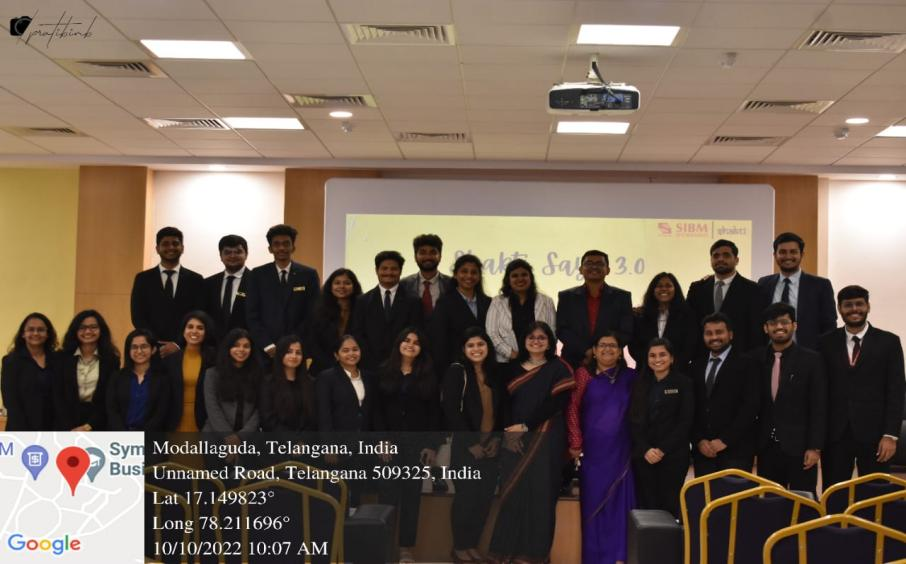 Team Shakti with the speaker MS. Hima Bindu and Dr. Ridhi Rani