Guest Lecture by Mr. Sameer Babu,  Topic:- "Mutual Funds"
Date : October 05, 2019
A guest lecture was conducted by Mr. Sameer Babu on the topic Mutual Funds on October 05, 2019 at SIBM Hyderabad. He has over 10 years of experience in the mutual fund industry. He is currently working as the Branch Manager of HDFC Mutual Funds which is one of the largest equity mutual fund schemes in the country.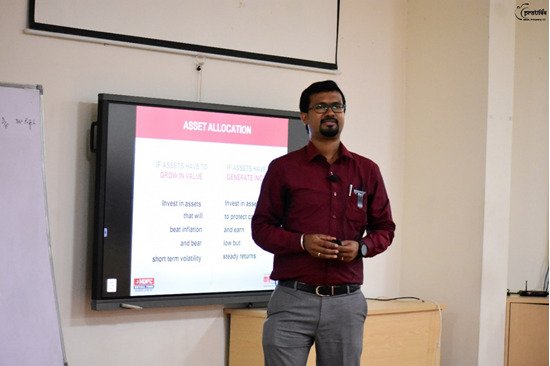 Mr. Sameer Babu interacting with students at SIBM, Hyd
Mr. Sameer Babu began the session by interacting with the students to get a grasp of what the students understand about mutual funds. He then explained what mutual funds are, what their different types are and the benefits of investing in mutual funds. He explained that the role of a fund manager is to invest the cash the investors have contributed, and the fund manager's goal depends on the type of fund. For example, fixed-income fund manager would strive to provide the highest yield at the lowest risk.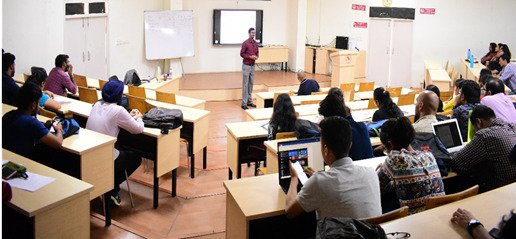 Another role of a mutual fund manager is to manager the portfolio of their customers. Portfolio management services are offered to high net worth individuals; taking into account their risk profile, their investments are managed separately. In the case of mutual funds, savings of small investors are pooled under a scheme and the returns are distributed in the same proportion in which the investments are made by the investor.
Mr. Sameer Babu went on to explain the different types of mutual funds, specifically open-ended funds and close-ended funds. In case of open-ended schemes, the mutual fund continuously offers to sell and repurchase its units at net asset value. Close-ended schemes have a fixed corpus and a stipulated maturity period ranging between 2to 5 years. Investors can invest in the scheme when it is launched.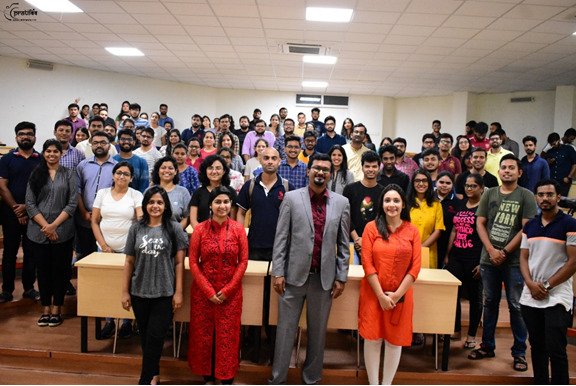 Group photo with guest
Fund managers handle different types of portfolios such as income funds, growth funds, balanced funds, and money market funds, each with their own goals and returns. Customers invest in the type of fund they want depending on what kind of return they are expecting and the mutual fund manager has to ensure that their expectations are met.
The session was very informative and the students learnt a lot about mutual funds and the role of a mutual fund manager. They were able to understand mutual funds from the perspective of an investor as well as a manager.