Guest Lecture by Mr. Raja Bhushan Topic:- "Capital Adequacy Norms and Basel"
Date : February 01, 2020
A guest lecture was conducted by Mr. Raja Bhushan about "Capital Adequacy Norms and Basel" on February 01, 2020 at SIBM Hyderabad. Mr. Raja Bhushan is also a visiting faculty for the second semester finance specialisation teaching Commercial Banking. He has decades of experience in the Banking Industry and has worked in Indian Overseas Bank as Branch Head and is well versed in international banking norms.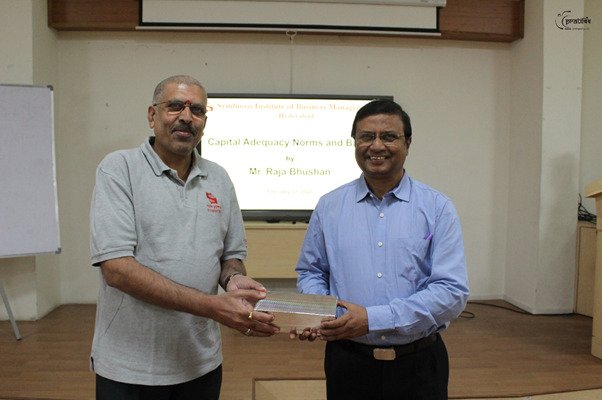 Dr. Shyam Sunder Chitta felicitating Mr. Raja Bhushan
Mr. Raja Bhushan began by informing the students about what capital adequacy is and what norms commercial banks have to follow under RBI regulations. He told the students that Capital Adequacy Ratio is the ratio of a bank's capital in relation to its risk weighted assets and current liabilities, decided by the central bank. It is important because it prevents commercial banks from becoming insolvent by taking excess leverage.
Mr. Raja Bhushan further explained the breakdown of the elements in the capital adequacy ratio (CAR). Capital is broken down into 3 tiers, the total of which becomes the numerator in the ratio. Risk weighted assets take into account credit risk, market risk, and operational risk. According to RBI norms, Indian scheduled commercial banks are required to maintained a CAR of 9% while public sector banks are emphasized to maintain a CAR of 12%.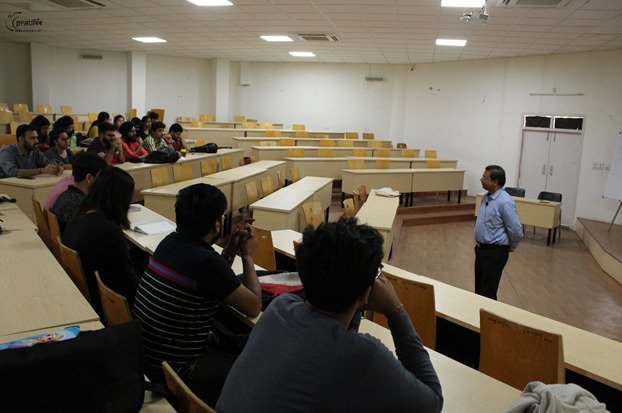 Mr. Raja Bhushan is discussing with our Finance specialization students
Lastly, Mr. Raja Bhushan explained what Basel norms are and why banks are required to follow them. The Basel norms is an effort to coordinate banking regulations across the globe, with the goal of strengthening the international banking system issued by the Basel Committee on Banking Supervision.
The students learned a lot about the importance of maintaining capital adequacy in the banking sector as well as the importance of the 3 Basel norms. Overall, it was a very interactive and informative session which enhanced the student's understanding of the banking sector.