Field Visit to M/s. Seedworks International Pvt. Ltd.
Date : February 25, 2020
Introduction:-
On February 25, 2020, a field visit was planned for understanding Value Chain created by SeedWorks Ltd in agriculture sector and also for Drone demonstration for spraying pesticide in the agricultural field at Veeranarayanpur, Elkathurthy (MO), Warangal Dist. This was live demonstration wherein we could relate the revolution brought about by technology in the agricultural sector. An agricultural drone is an unmanned aerial vehicle used to help optimize agriculture operations, increase crop production, and monitor crop growth. Sensors and digital imaging capabilities can give farmers a richer picture of their fields. Using an agriculture drone and gathering information from it may prove useful in improving crop yields and farm efficiency.

SeedWorks International Pvt Ltd (SWIPL) is a science company engaged in research, production and marketing hybrid seeds of Rice, Cotton, Pearl, Millet, Mustard and vegetables. The organization has been in seed business since 1998, Headquarter out of Hyderabad, Telangana, India. It has many research facilities across many cities in India like Aurangabad, Alwar, Bangalore, Lucknow, Hisar, Hyderabad with 15 satellites. It is totally sustainable organization working with 45000 plus farmers.
The visit was planned as part of our subject Supply Chain Management taught by Dr. D Rajkumar Pillay, who coordinated the visit. The schedule for visit was as follows:-
| | |
| --- | --- |
| Time | Activity |
| 6:30 AM | Start journey from college |
| 12:00 Noon | Reach at Elkathuthy |
| 12:30 PM | Opening session by V P Mr. Raja on SeedWork and Supply Chain |
| 1:00 PM | Session on Digital Supply Chain by Mr. Pulkit |
| 1:15 PM | Field visit for Drone demonstration |
| 2:00 PM | End of the demonstration |
| 2:00 PM – 2:30 PM | Open for Q & A |
| 2:30 PM – 3:30 PM | Lunch |
| 4:00 PM | End of Visit |
| 4:00 PM – 9:00 PM | Back to college |
Objective of the Visit:-
To understand Supply chain process in agriculture domain
To understand technology diffusion taking places in agriculture
To understand the process of Value chain created by SeedWorks Pvt Ltd
To understand on field operations of SeedWork Pvt Ltd
To understand application of drones in agriculture
On Field Observation:
We reached the site at around 12:00 noon and we were welcomed by the Team of SeedWork Pvt Ltd anxiously waiting for our visit. The Visit began with opening speech by our professor Dr. Rajkumar Pillay, who briefed about the objective of our visit and learnings we would gather with the visit. Following this Mr. Raja VP of SeedWork Pvt Ltd briefed us with Supply Chain model used in agricultural sector. Mr. Raja who himself is Master's in Agriculture science has shared his experience as how there has been transformation in agricultural sector and how SeedWork Pvt Ltd works with farmers across India to germinate new hybrid seeds. He explained about business of seed industry which is 20000 crore industry which has 50% to 60% of gross margin and Profit after tax is 20 crore to 30 crore. SeedWork Pvt Ltd works in integration with demand and technology. Agricultural sector has challenges of weather, soil and rain.
Mr. Raja also covered the gaps of agriculture ecosystem and use of drones in agriculture which has stared diffusion into the agricultural ecosystem. Use of drones has certain advantages like:-
Higher efficiency
No wastage of chemicals
Optimization of resources
Safety from harmful pesticides
Real time images can be gathered and analyzed for future study like effected crop area, amount of pesticide needed, flow rate of pesticides
This bird's-eye view can reveal many issues such as irrigation problems, soil variation, and pest and fungal infestations
Later on Mr Pulkit, who heads the digital department had touched upon some of the important points like:-
EQ (Emotional Quotient), SQ (Social Quotient) and DQ (Digital Quotient). He stressed on the need of DQ in today's world
Scope of the agriculture today and in future
Perception of farmers to young generations
Farmer as a CEO, CFO, CHRO
Use of production to fight with shortage of labor, Cost cutting
Working of Drone by Mr Pradeep:-
He explained about how the usage of drone will bring a revolution in the traditional agricultural process. Before usage of drone it is necessary to map the boundary of the field and feed it into the system by dividing the field into grids and also with input of the type of crop to be cultivated. However even today the usage of drones requires legal permission and has not yet been approved by government of India.
Later we were briefed about supply chain process followed by SeedWork Pvt Ltd. The supply chain process at Seed Work involves following stages
Foundation Seed Production
Hybrid seed production
Processing and Packaging
Logistics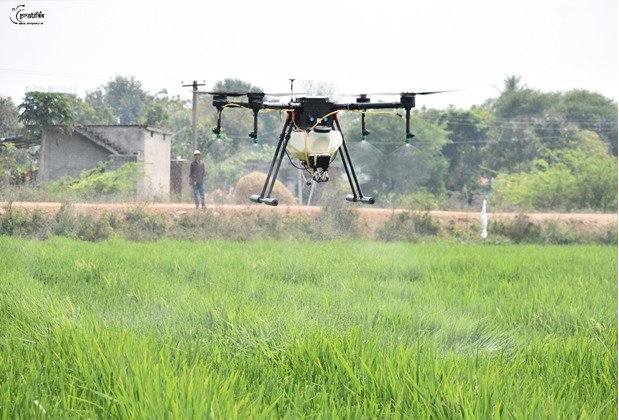 USE OF DRONE IN SPRAYING OF PESTICIDES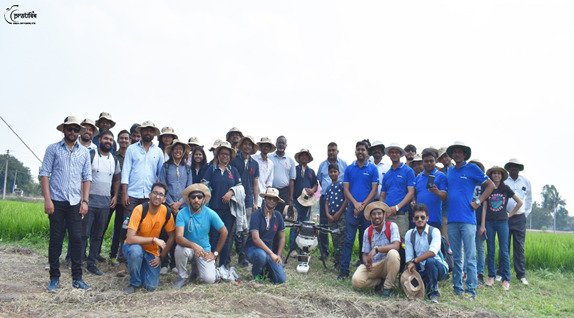 Group photo at SeedWorks Ltd with SIBM Faculty and Students
Supply Chain at SeedWorks:-
SeedWorks aims at providing sufficient amount of seeds to its customers. They look forward to supply seeds of high quality at the right time. The main customers of SeedWorks are India and South East Asia. The main regions where farming is centred for SeedWorks are South, East and West India. This diversity helps organization to work closely with farmers around the map. All the processes, technologies, equipment, methods and systems are of superior standards so as to assure good quality of seeds.
The main centres for Supply Chain are Hyderabad and Raipur.
They also have satellite centres around 8 states.
The whole process of Supply Chain includes these steps
Stock Seed
Parent Seed
Production
Processing
Distribution
Seed Production:-
Thee seed production at SeedWorks is spread across 8 states. The farmers work efficiently towards providing seeds of superior quality. SeedWorks employ a team of technicians who also come up with advices related to production such as:
Selecting best soil and time to sow seeds.
Carrying out apt methods to carry out right methods of agriculture.
Diversification of production around the country.
Make sure seeds are of high quality.
Gathering crop information.
SeedWorks has collaborated with Thanos, a Hyderabad based start-up that is into making drones for agricultural benefits. Marking a drastic transformation in life of farmers with the usage of an aerial-pesticide spraying technology and eliminating many health hazards that could potentially cause partial blindness among agriculturists, Thanos is moving into the future.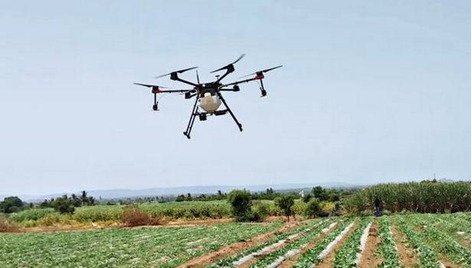 USE OF DRONE IN SPRAYING OF PESTICIDES
Processing of Seeds & Packaging:-
SeedWorks has three hybrid rice processing plants situated in Hyderabad and Chhattisgarh, having a per day capacity of 180 Megatons. They ensure brand security and trace-ability by developing ERP and QR codes.
They also have couple of cotton processing plants in Hyderabad that have a per day capacity of 6000 packets characterized with same features as hybrid rice.
Logistics and Distribution:-
To make sure that the operational resources are made to use efficiently, the demand forecasted is worked upon by a strategic supply plan. SeedWorks aims to provide timely availability and on-time delivery of end product to the consumer. A coordinated crop approach is used with optimized put cycles to achieve the forecasted demand.
Conclusion:-
Thus, we see how SeedWorks uses technology and innovation to produce, process and make seeds available to their consumers. SeedWorks is also committed to exceed the expectations of stakeholders. Their supply chain system ensures a quick and smart delivery by leveraging best of the technologies. They believe in collaborative working and are goal oriented.
Thus, the field visit on a whole was informative, full of new learnings and added in a lot of value to our management life. We came across innovative methods and collaborative approach used in SeedWorks to make their mission and vision of delivering high quality seeds to their end consumers and adding more value to their supply chain.