Workshop on Entrepreneurial Thinking
SCEI Hyderabad Chapter has organised the last workshop in the Series of Workshops on Entrepreneurship conducted by American Business Foundation on behalf of SIBM-Hyderabad on January 20, 2017. Certificates of Completion were awarded to 39 M.B.A. students of 2016-18 batch. The Chairman of the American Business Foundation along with his team addressed the gathering and motivated the students to become entrepreneurs. The whole team of American Business Foundation assured their continued support to SIBM-Hyderabad.
The M.B.A. students of 2016-18 batch gave a wonderful presentation on Demonetisation that demonstrated their entrepreneurial thinking. Dr. C.Venkata Ramana addressed the gathering. He thanked the whole team of American Business Foundation for their guidance and support to the students through the workshops. Dr. Ravi Kumar Jain, Director, SIBM-Hyderabad made an inspirational speech highlighting the importance of entrepreneurship and assured the required support for students in launching their own businesses. He motivated students to enhance their entrepreneurial thinking and come up with smart solutions to complex problems. He gave real life examples of smart solutions adopted by entrepreneurs to solve complex problems. The Chairman of American Business Foundation and his team members were felicitated during the event.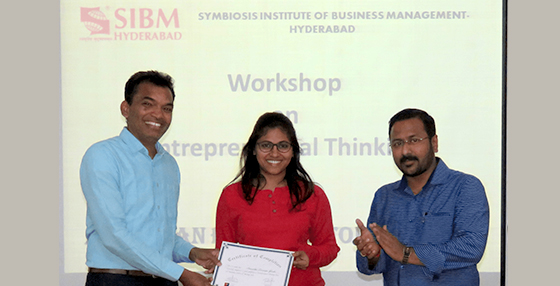 Mr. Bhat, Team member of ABF and Dr. R.K. Jain, Director, SIBM-H Presenting certificates to the participants.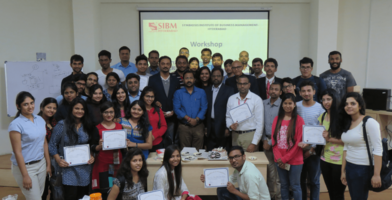 Workshop participants with Dr. R.K. Jain, Director, SIBM-H and Mr. Charles Anthony, Chairman, ABF