Guest Lecture by Mr. Ashwin Srisailam
Date : August 26, 2019
Symbiosis Institute of Business Management Hyderabad organized a guest lecture on Music and Wellness on August 26, 2019. The speaker for the lecture was Mr. Ashwin Srishailam. He is the Co-founder, Visionary and Content Driver behind Ahhaa. He is a humanitarian, public speaker and former monk with over two decades of learning and teaching others on how to live a life of inner happiness. In his lecture he discussed about the essence of life, success, spirituality and inner awareness.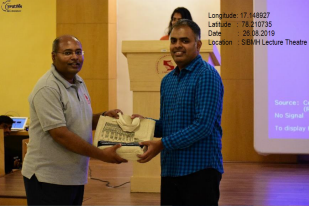 "Do not let another day go by where your dedication to other people's opinions is greater than your dedication to your own emotions!", this is a quote by Steve Maraboli. This is one of the key points that Mr. Ashwin focused on during his discussion. Deep down we all know that there is nothing called a perfect moment. We're all just defending ourselves because we don't want to own up to the meek fact that we are petrified of the unknown and the changes that come along with it. People are afraid of failure more than thinking it as a chance to improve. The assumption of failing at something causes anxiety and makes him/her feel insignificant. What you need to do is stop procrastinating and overanalysing the decisions. This may even lead to paralysis through analysis and ultimately a fear to commit to change. So, "If you want to take a decision, don't wait, just take it".
Mr. Ashwin in his speech also emphasized on changing one's mind set in order to achieve something in life. If you think that you can change your mind set and believe in your abilities, you can create wonders. Through hard work and preparation, he/she can go from being bad at playing a game to winning on the field. All you need to have is a willingness to work hard and put in the effort. Even failure doesn't stop that person from continuing to work, because the failure doesn't mean that he is incompetent of winning in the future, but rather it is only a stepping stone to something bigger in the future.
Self-awareness is one of the known keys to becoming successful in your life, cites Mr. Ashwin. It is understanding what makes yourself tick. So, what if you can tell how you feel and what you are thinking? The more you know about yourself and certain aspects of your life, the more you can adapt to the situations that you face. Being self-aware would make you distinguish your own idea of success in the first place. Without self-awareness, you will continue to spite other people's success and will continue to seek for the same feat to happen to you.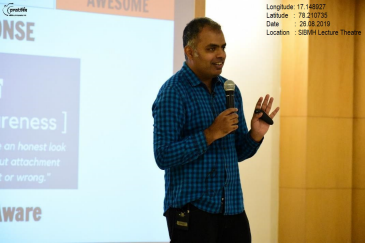 One should also be aware of our emotions. Some may think that emotions are deterrents to logical thinking, which is vital to achieving success. So, instead of putting effort to contempt our emotions, self-awareness helps us comprehend them more. By knowing how we feel, all the more we can manage it efficiently.
Mr. Ashwin left a lasting impression and a takeaway that you should love yourself first and create wonders in your life. The lecture was followed by an interactive session, where he invited questions and responded to them in a lively and humorous manner. The session was an enlightening experience to all the students present there, as it helped to rediscover oneself as a human being and as a student. The articulation tips provided by Mr. Ashwin were helpful to improve one's way of looking at life. The session ended with a vote of thanks that was given by Manishi Divya (1st year MBA).