Guest Lecture by Mr. Ved Srinivas
Topic: "Cross Cultural Communication"
Date: 20th August 2020
A guest lecture on "Cross Cultural Communication" was arranged as the part of the course Cross Culture Management on 20th August, 2020 for the students of Human Resources batch of 2019-21. The lecture was conducted by Prof. Ved Srinvas on a virtual platform of Microsoft Teams.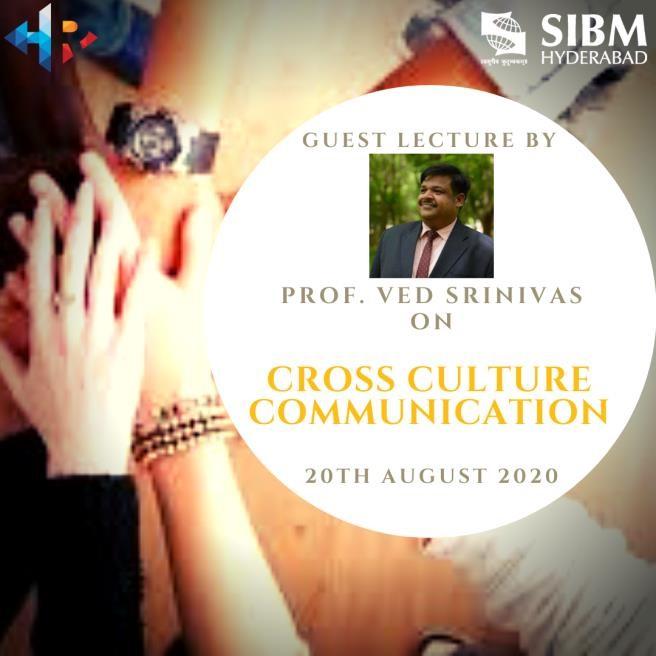 The guest was welcomed heartily for a second lecture by Dr. Ridhi Rani and the 23 students of Human Resources. Mr. Ved Srinivas is an Assistant Professor in the area of Public Policy in Thiagarajar School of Management,Madurai, Tamil Nadu. He is currently pursuingPh.D. from Bharathiar University, Coimbatore, TamilNadu in Human Resources / Organizational Behaviour Area. He has overall 7 plus years of teaching & industry experience. He has done MBA from Symbiosis International University and also holds a Masters of Arts in International Relations from Annamalai University. He has done his
Bachelors of Arts in Geography from Delhi University. His Research interests are in the areas of Policymaking, Governance, HRD. He is very passionate about teaching. He believes that great teaching is one of the best ways to contribute to nation building, so no wonder there is a great concordance between his passion and belief. His academic interests lie in the subjects of Geography, Psychology, Geopolitics and International Relations and Communication.
Prof. Ved Srinivas started the lecture with a quick revision of first lecture which shed light on different cultures and their mores. He then encouraged students to share their finding from the case study titled Honda (A) and Honda (B) which discusses the history of Honda Motor Company from its beginning through its entry into and subsequent dominance of the U.S. market. He then shed light on the finding by BCG report that state how Japanese labor is cheap, but actually the per person productivity is high and that's why the hours billed are less and profits are high which is mistakenly perceived as cheap labor. He also shared two points which make the Japanese culture noteworthy that is their obsession with productivity and perfection and how successful entrepreneurs can imbibe these values for increased value addition.
Prof. Ved Srinivas then shared his thoughts on the momentum gained by Honda in the US market and how TV and media can have a positive impact on the society as well as businesses. He gave real life analogies between Japanese culture of Shintoism and Indian culture of Hinduism for an easier understanding. He shared some interesting concepts such as Meiji Era, Shogunate and how Japan rose from a mere fishery village to a super tech hub. He shared some expert comments on Japanese collectivism and connected it to success of Honda in the field of consumer behavior. Finally he lead the discussion towards learnings from the Honda's business footprints in America and how a company can rise to fame by adopting to different cultures, values and knowing the customer pulse.
The session helped the students to learn more about cross cultural communication and its styles. It was found to be very useful and easy to understand because of the interactive style of teaching of Prof. Ved Srinivas.