Guest Lecture by Mr. Ved Srinivas
Topic: "Cross Cultural Leadership"
Date: 20th August 2020
Mr. Ved Srinivas is an Assistant Professor in Public Policy in Thiagarajar School of Management, Madurai, Tamil Nadu. He is currently pursuing Ph.D. from Bharathiar University, Coimbatore, Tamil Nadu in Human Resources / Organizational Behavior Area. He has overall 7 plus years of teaching & industry experience. He has successfully completed the Faculty Development Programme (FDP) from IIM Ahmedabad and is therefore a proud
Alumnus of the esteemed institution. He has also done FDP in Research Methodology from IIM Indore which is also his Alma mater. He has done MBA from Symbiosis International University and holds a Master of Arts in International Relations from Annamalai University.
He has done his Bachelor of Arts in Geography from Delhi University.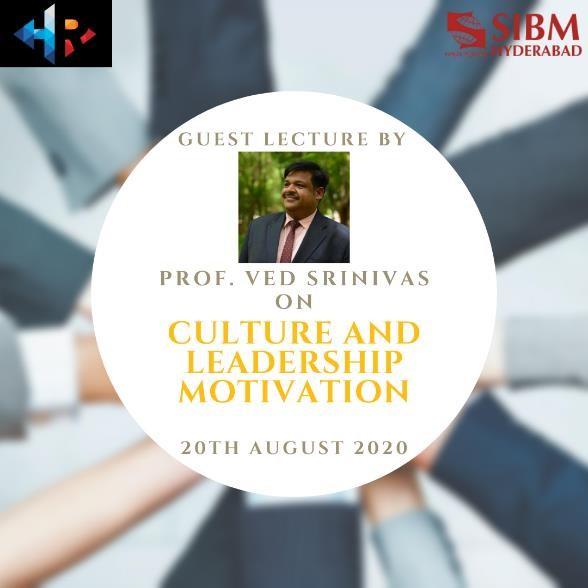 He has worked for Academia as well as industry. While he was a Consultant in the industry he has worked for many clients, notable amongst them is the Swedish Furniture Major 'IKEA'. He began his career as Assistant Professor Symbiosis, Bengaluru Campus where he taught courses on Principles of Management, Leadership, Integrated Marketing Communication & Advertising. He is deeply passionate about teaching. He believes that great teaching is one of the best ways to contribute to
nation building, so no wonder there is a great concordance between his passion and belief. His academic interests lie in the subjects of Geography, Psychology, Geopolitics and International Relations and Communication.
Learnings:-
The sessions started with the speaker explaining about:
What is Leadership?
What is Motivation?
Followed by asking the students about the Leadership traits of Mr. Soichiro Honda from the Honda case.
What are the leadership traits of Mr. Soichiro Honda?
Never giving up and positive attitude
Problem solving skills
Positive attitude
Passionate
Great visionary
Motivated team by setting example
Pre-requisites for Leaders:
An open mind
Devoid of preconceived notions
Knowledge of culture
Including subcultures
No complacency
Perseverance
Prof. Ved Srinivas explained the pre-requisites for leaders like Soichiro Honda.
He explained that a person having an open mind is not very dogmatic, does not have a fixed mind-set.
Prof. Ved Srinivas has done his Bachelor of Arts in Geography from Delhi University. He recalled an incident of how his academics, interest in politics and knowledge of culture helped him in developing social relationships across the borders by stating his encounter with a person from Western Sahara- a disputed territory on the northwest coast and in the Maghreb region of North and West Africa. About 20% of the territory is controlled by the self-proclaimed Sahrawi Arab Democratic Republic, while the remaining 80% of the territory is occupied and administered by neighboring Morocco.
He also gave importance on having knowledge about various subcultures by stating the example of Lord Curzon- British statesman, viceroy of India (1898–1905), and foreign secretary (1919–24) who during his terms in office played a major role in British policy making.
Motivation:
Venturing into unknown
Externalities
National Culture Community support
Key points:
China Story
Starbucks in China
Michelin in NA
American Hegemony
Jewish Diaspora
Indian Traditions
The speaker shared the success story of China: Deng Xiaoping- was a Chinese politician who was the paramount leader of the People's Republic of China from 1978 until 1989. After Chairman Mao Zedong's death in 1976, Deng gradually rose to power and led China through a series of far-reaching market-economy reforms, which earned him the reputation as the "Architect of Modern China".
Starbucks articulated an entry strategy that would address the dominant Chinese markets and that was designed to be as inoffensive with respect to the Chinese culture as possible. Instead of taking the conventional approach to advertising and promotions—which could have been seen by potential Chinese consumers as attacking their culture of drinking tea—they positioned stores in high-traffic and high visibility locations. Moreover, Starbucks very deliberately began to bridge the gap between the tea drinking culture and the coffee drinking culture by introducing beverages in the Chinese stores that included local tea-based ingredients.
The Jewish Diaspora: referring to the dispersion of Israelites or Jews out of their ancestral homeland (the Land of Israel) and their subsequent settlement in other parts of the globe.
Explaining the facts like how the world's leading IT leaders belong to the Jewish community like Facebook, Oracle, etc.