Shakti Says 3.0
Event Name: Shakti Says 3.0
Objective: This event aimed to understand the burnouts we face at different levels of life and how to deal with them objectively.
Outcome: The students understood how different it is to bravely take a stand for several battling situations in their life. Through participating in the activity conducted by team Shakti, they even became socially aware of the surrounding burnouts.
Report
Shakti - The Women Development and Social Responsibility Cell of SIBM-H conducted 'Shakti Says 3.0', the third edition of Shakti Says for the MBA students of Batch 2022-24 and for the students of BBA Batch of 2022-25 on 10th October 2022. The theme of this event was "Humara Honsla", which means "our courage". The core philosophy of Symbiosis International (DU) is Vasudaiva Kutumbakam. In pursuance of this and as part of the university's emphasis on inspiring future managers, speakers were brought from different fields who shared their experiences about their respective domains. This event encouraged women to dream big and show young minds that anything is possible.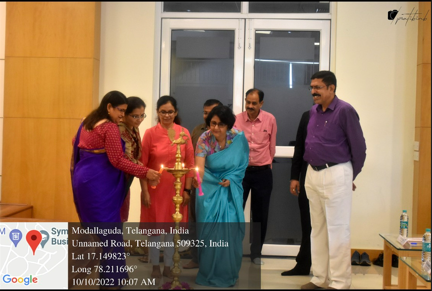 Lamp lighting by Dr. Shyamsunder Chitta, Dr.Ridhi Rani, and our esteemed guest
The event started with the lighting of the lamp by Dr. Shyamsunder Chitta, Deputy Director, SIBM Hyderabad; Dr. Ridhi Rani, Faculty-In-Charge of Shakti; faculty members, and our esteemed guests, Ms. Deepa Chandrasekaran, Founder and CEO of Engage2Transform and Ms. Priya Iyengar, ADR specialist. After the introductions, the speakers later engaged in a one-on-one interaction wherein they discussed burnout and how we face it daily. There was a one-on-one interaction between the speakers. They also interacted with the audience and asked about their way of remaining positive and grateful, which indeed motivated and created a sense of positivity in all the students.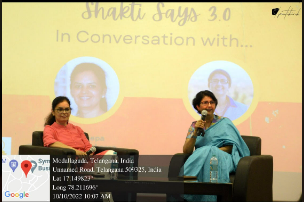 Ms. Deepa Chandrasekaran and Priya Iyengar discussing battling burnouts
Their session was followed by a question-and-answer round, where the students clarified their doubts. Later on, team Shakti conducted an interesting activity for the students at the end called 'Shabdon Ka Khel', where the students were formed into teams. They had to solve the crossword puzzle provided, and the team who completed the puzzle with most of the answers within the timeframe was awarded a gift hamper.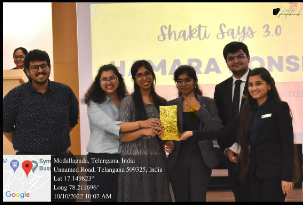 The winning team, along with the head and deputy head of Shakti