The Christmas Soirée- A Christmas Celebration
Venue: Amphitheatre
Time: 06:00 P.M
Date: 24th December 2022
Antardhwani- The Cultural Club of Symbiosis Institute of Business Management, Hyderabad; is hosting its first celebratory event on 24th December, 2022; The Christmas Soirée at the Amphitheatre.
The Christmas Soiree aims at kickstarting the Christmas rendezvous of the campus of SIBM-H with a creative and fun-filled note. Each vertical of Antardhwani have come up with their own activities to make the event an entertaining one. Interested students have registered for their activity of choice through the respective google forms provided. The event is not limited to SIBM Hyderabad students, but also the students of Symbiosis Law School, Hyderabad (SLS-H) and Symbiosis Centre for Management Studies, Hyderabad (SCMS-H).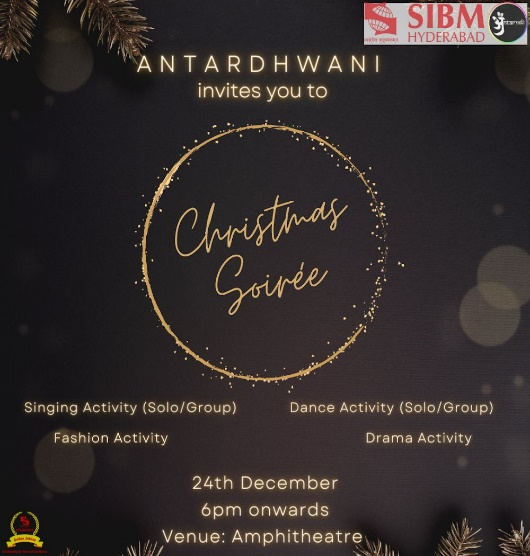 To begin with, Team Vibe- The Dance Vertical of Antardhwani, has come up with the activity "Sync Squad"; where participants, in solo or group, will come up with a theme or concept of their choice and present them in within 2 to 4 minutes.
Up next, Team Aaroh- The Music Vertical of Antardhwani, came up with their event "Apna Gaana Banaao", where participants have to come in groups of 4-5 members each and perform a medley of 3-4 songs.
For the Drama Vertical of Antardhwani- Team Abhinay, they are hosting "Gangs of Cinemapur"; where participants will come in teams of 5-6 members each and perform an act in within 2-5 minutes. They have the freedom to choose their own theme or concept.
Last, but not the least; The Fashion Vertical- Team Panache; is conducting the event "Trashion"; where participants will come in teams of two and prepare an outfit from the items such as newspapers, bottle caps, etc., out of those. One among them will have to be the model and showcase their outfit through a ramp walk.
---
Date: 25th December 2022
Venue: Amphitheatre
Time: 06:00 P.M
Christmas is not a time nor a season, but a state of mind. To cherish peace and goodwill, to be plenteous in mercy, is to have the real spirit of Christmas. SIBM-H is celebrating Christmas Day on campus from 6 pm onwards at the Amphitheatre with absolute fervor. The celebrations, planned by Mélange - The Organizing Committee of SIBM-H, involve a two-hour long line up of fun and interactive games, which promise to leave the audience wanting for more. Not just that, in accordance to a long running tradition at SIBM-H, the Christmas spirit of exchanging gifts will also be organized as a reminder to everyone that Christmas is a day of spreading joy, even if you are strangers. And to cap off the perfect evening, a musical night is in works so that everyone forgets they are away from family and enjoy their hearts out with their family away from home.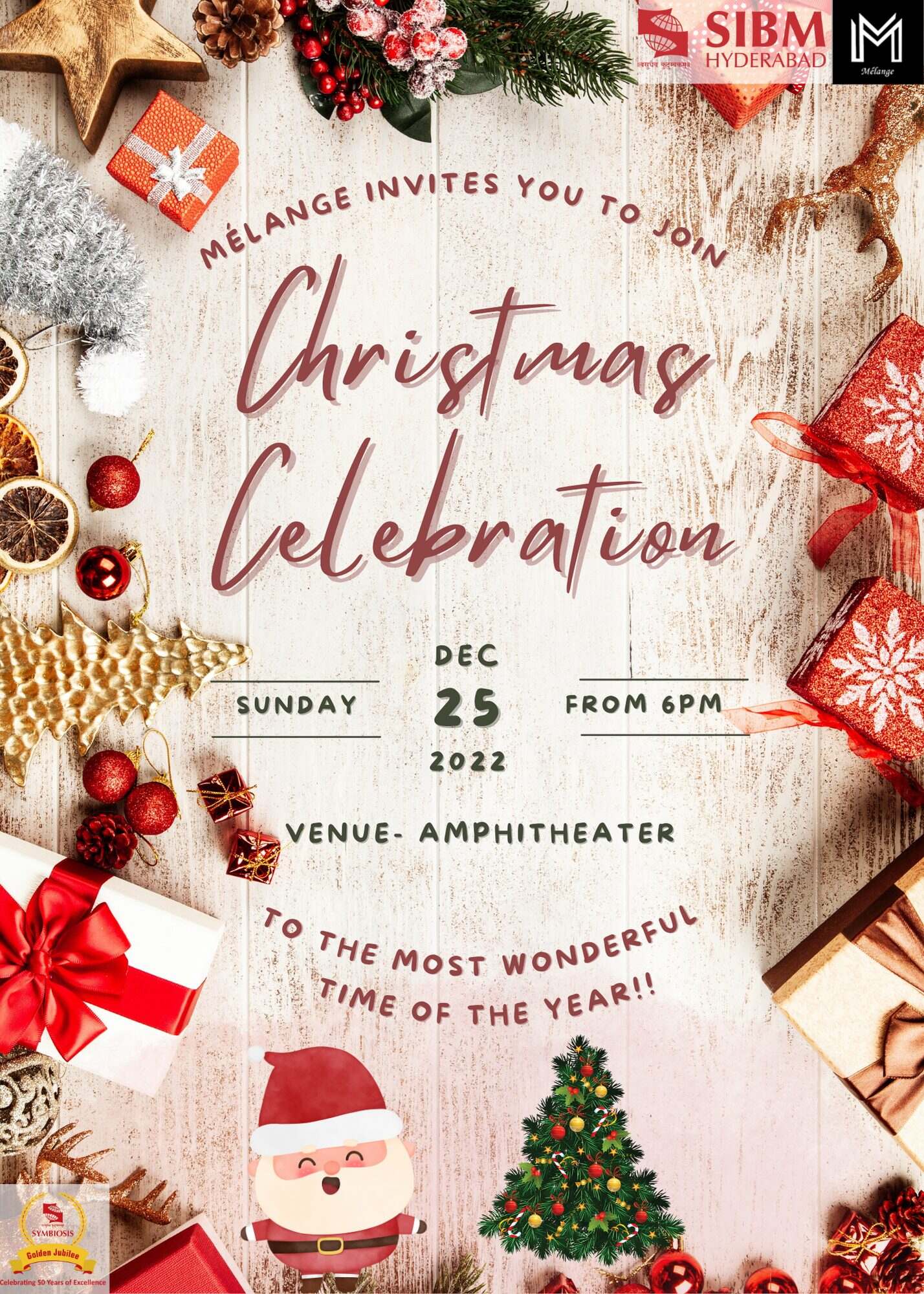 ---