SymbiTalks 8.0 – This is My Story
Summary
Event Name: SymbiTalks 8.0 - This is My Story
Objective: SymbiTalks 8.0 aims to create a dynamic platform where accomplished speakers from diverse fields share their transformative journeys and insights. Through candid narratives and thought-provoking discussions, the event seeks to inspire, motivate, and foster a spirit of growth, encouraging attendees to navigate challenges with resilience and embrace innovation on their personal and professional paths.
Outcome: SymbiTalks 8.0 enriched participants with profound insights from esteemed speakers, enhancing their understanding of resilience, innovation, and holistic professional growth. This event empowered attendees to navigate the corporate world with greater strategic acumen and confidence.
Event Details:
Date: 11th and 12th August 2023
Time: 9:30AM - 5:00 PM
Venue: Auditorium of Symbiosis International University (SIU), Hyderabad Campus
Organizing Committee: Corporate Interaction Cell
Report
SymbiTalks 8.0, the much-anticipated eighth edition of our flagship event, hosted by the Corporate Interaction Cell of Symbiosis Institute of Business Management, Hyderabad, was a resounding success. Centered around the theme "This is My Story," the event celebrated personal journeys of triumph, resilience, and the pursuit of excellence.
SymbiTalks has been previously graced by distinguished personalities like Mr. Ankur Chaturvedi, Associate Vice President - Business Excellence & Quality at Emami Ltd, Dr. Rajesh Parekh, Resilience Coach at Resilient Leadership, Mr. Tarun Srivastava, Chief Manager at Polycab Support Force, Mr. Vishal Shrimankar, Banker, Mr. Anirban Mukherjee, Senior Executive – Talent Acquisition at Larsen & Toubro Infotech, Mr. Naveen Mathur, CEO at Maithri Aquatech Pvt. Ltd
The present edition aimed to inspire, empower, and facilitate personal and professional growth among attendees. Through captivating narratives, insightful discussions, and valuable interactions, the event aims to provide a platform for individuals to learn from the personal journeys of accomplished speakers.
We began the first day of SymbiTalks 8.0 with an auspicious lamp lighting by Dr. K.P. Venugopala Rao, Director of SIBM Hyderabad along with Dr. Shyamsunder Chitta, Deputy Director, SIBM Hyderabad, Mr. Nicholas Daniel Ross, Head- Corporate Relations and MDP, Mr. M. Srinivas, Head- Student Welfare, Dr. Sripathi Kalvakolanu, Head of Academics, Dr. Ridhi Rani, Assistant Professor and Incharge - Women Development and our guest speaker, Capt. Ved Singh, Director- Darwinbox and Ms. Chinmaye Chorghe, Student Lead, Corporate Interaction Cell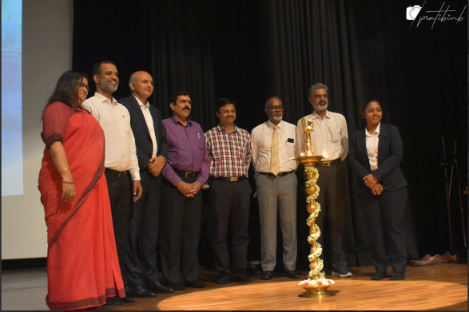 Ceremonial Lighting of the lamp by Dr. K.P. Venugopala Rao, Dr. Shayamsunder Chitta, Mr. M. Srinivas, Dr. Sripathi Kalvakolanu, Dr. Ridhi Rani and the distinguished dignitary present for the event Capt. Ved Singh and Ms.Chinmaye Chorghe.
SymbiTalks 8.0 unfolding as a remarkable event, began with the encouragement of Dr. K.P. Venugopala Rao, Director of SIBM Hyderabad. With a tapestry of anecdotes, he eloquently unveiled the essence of the theme - "This is My Story," intricately weaving in the threads of resilience, the "Phoenix Effect," and the pursuit of going that one extra mile. Dr. Rao's narratives painted a profound picture of resilience's role in shaping individual stories. Ms. Chinmaye Chorghe, the Student Lead of the Corporate Interaction Cell, delivered a concise and heartfelt reflection of past SymbiTalks editions.

CImage: Dr. K.P. Venugopala Rao giving a heartfelt commencement speech and (Right) Ms. Chinmaye Chorghe speaking about past editions of SymbiTalks.
Captain Ved Singh, Director of Darwinbox, commenced Day 1 of the event with a compelling discourse on "Thriving in Chaos" under the theme "This is My Story." Drawing from his transition from military to corporate realms, he illuminated the art of clarity in uncertainty. He narrated ChatGPT's rise, illustrating the impact of singular innovation. He intertwined military and corporate lessons, introducing the IOPEN framework. His narrative encapsulated resilience, transformative disruption, and the bridge between military and corporate wisdom, leaving the audience enlightened and invigorated by the crucible of growth within chaos.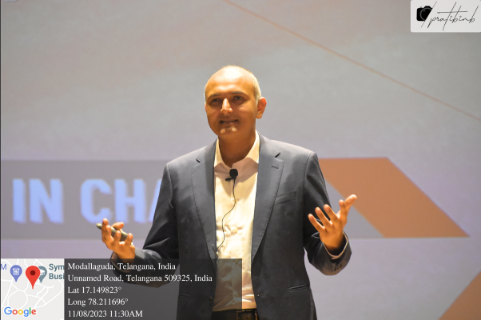 Image: Capt Ved Singh Speaking on "Thriving in Chaos"
The second speaker of the day was Mr. Ramna Vadavalli, President Randstad Offshore Services. In his enlightening speech on "Fostering Inquisitiveness," Mr. Vadavalli underscored the profound role of curiosity amidst rapid change and innovation. He emphasized how curiosity drives learning, exploration, and progress, urging the audience to actively seek answers, challenge assumptions, and retain their inquisitive nature. Through examples from Einstein's discoveries to the importance of a Curiosity Quotient (CQ), he highlighted how curiosity cultivates empathy, adaptation, and innovation. His address served as a compelling call to embrace curiosity's transformative power, urging individuals to become open-minded, continuous learners who contribute to a more empathetic, innovative, and adaptable world.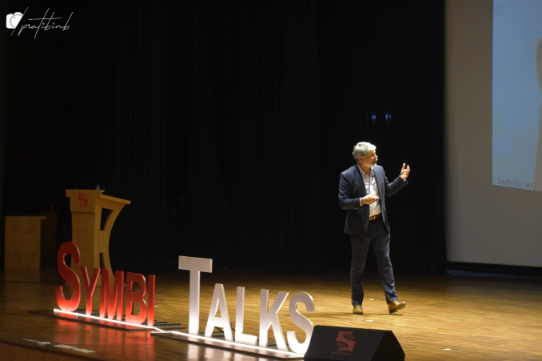 Image: Mr. Ramna Vadavalli speaking on "Fostering Inquisitiveness"
We had the privilege of hosting the third speaker of the day, Mr. Ajay Chennuri, General Manager & Business Operations Head at Americas2 SMU, Wipro Technologies, as a distinguished speaker at SYMBITALKS 8.0. Through his captivating session on "The Phoenix Effect," he profoundly impacted our audience, sharing personal experiences of resilience and growth while emphasizing the transformative power of adversity. With thought-provoking questions and inspiring anecdotes, Mr. Chennuri left an enduring mark, underscoring the importance of determination and resilience in navigating the professional landscape and achieving excellence.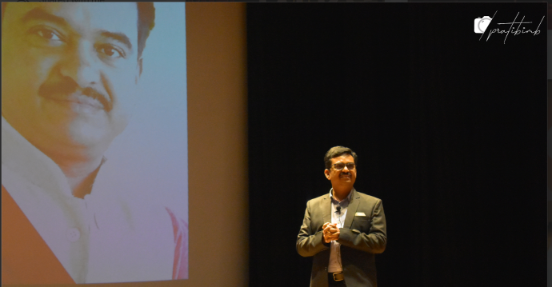 Image: Mr. Ajay Chennuri speaking on "The Phoenix Effect"
We were truly honored to host Mr. Manoj Verma, an inspiring Strategy & Business Consultant as the fourth speaker of the day. Through his talk on "That One Extra Mile," he shared his personal journey and drew parallels from Robert Frost's poem, emphasizing resilience and change to achieve remarkable growth. With relatable anecdotes, including leading a team of experienced individuals, he highlighted the power of embracing innovation and the four principles of Capability, Competence, Connection, and Conquer. Referencing the documentary "14 Peaks," he urged us to transcend limits and view change as an opportunity for transformation, leaving an enduring impact on our perspective towards challenges and success.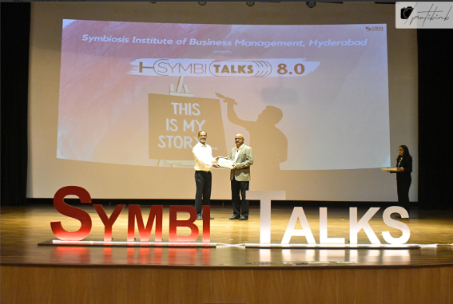 Image: Mr. Manoj Verma being felicitated by Dr. KP Venogopala Rao
We had the privilege of hosting Mr. Moses John Wesley Makam, Group Solution Leader Ex Brane Enterprises, Vertical Delivery Head Ex Wipro, as the fifth and final speaker at Day 1 of SymbiTalks 8.0. His captivating session on "This is My Story" left an indelible mark, where he shared a journey of audacity, adaptability, and resilience. From his bold steps at 21 to his transformative roles at Microsoft and Apple, Mr. Makam's narrative underscored the power of seizing opportunities, staying relevant, and embracing humility and grace on the path to success, leaving the audience inspired and imbued with the spirit of a phoenix rising from adversity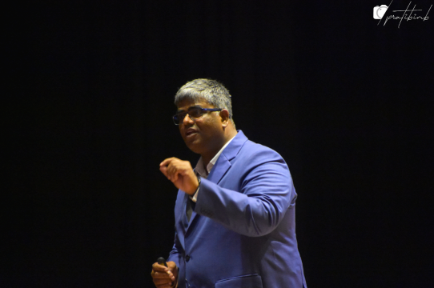 Image: Mr. Moses John Wesley Makam speaking on "This is My Story"
With this we concluded the first day of SymbiTalks 8.0.
We began Day 2 with a riveting speech by Mr. Nicholas Daniel Ross, Head- Corporate Relations and MDP, wherein he spoke about how the student body functions and manages the event and the contribution of students in making the event a grand success.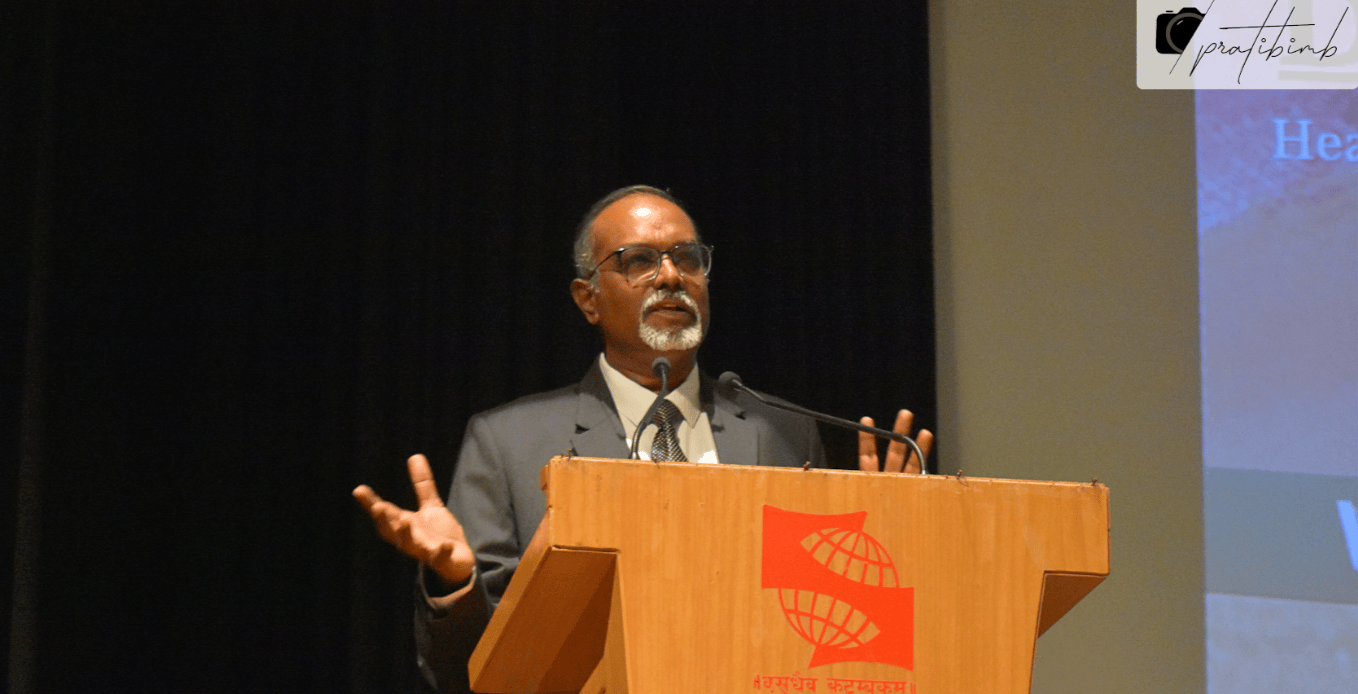 Image: Mr. Nicholas Daniel Ross speaking about his experience with SymbiTalks
We were honored to have Mr. Vikas Sharma, Executive Vice President and Head HR of HCLTech as the first speaker for the day. Mr. Sharma deeply engaged the audience with thought-provoking inquiries, and shared his personal journey of overcoming challenges and losses. Drawing from his academic and corporate experiences, he offered invaluable insights into navigating the complexities of the professional world. Mr. Sharma's impactful narrative, including the concept of the "That One Extra Mile" underscored the power of unwavering determination in conquering obstacles.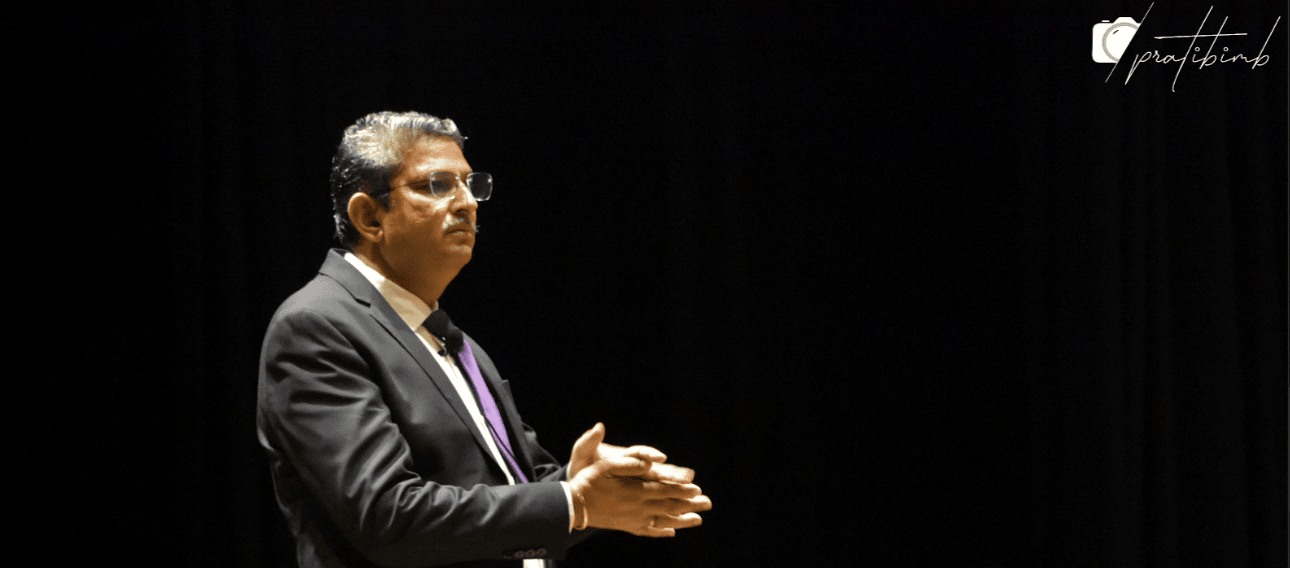 Image: Mr. Vikas Sharma speaking on "That One Extra Mile"
The second speaker for the day, Mr. Hemant Gandhe, Sr. Vice-President, Tata AIG eloquently delved into the concept of adversity quotient, sharing personal experiences that illuminated its importance to the young audience. He emphasized the value of embracing unexpected roles and challenges, reframing difficulties as opportunities for growth. Through his narrative, he underscored the significance of learning from personal experiences, especially in facing tough situations at work, and highlighted the transformative power of enduring hardships to gain invaluable life lessons and earn respect from others, leaving the audience with a fresh perspective on overcoming adversities.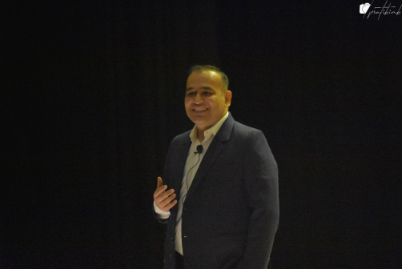 Image: Mr. Hemant Gandhe speaking on "The Adversity Quotient"
In an eloquent speech, our third speaker of the day Lt. Cdr. Dr. Sadhnaa Giri, HR Ccentric Learning Head Pvt Ltd, beautifully captured the essence of her humble village upbringing and the profound influence of family, particularly her father as a heroic figure who transcended gender biases. Her unwavering determination and courage shine through, exemplifying the transformative impact of education. The imprint of NCC on her uniform-loving spirit and the concept of "Antim Pag" encapsulate her journey remarkably. With 12 years of military service, her commitment to India-Russia ties is evident. Her aspiration to mentor and be a life coach, guided by "Don't fear mistakes" and Ikigai, emanated wisdom, crafting a compelling narrative of purposeful growth.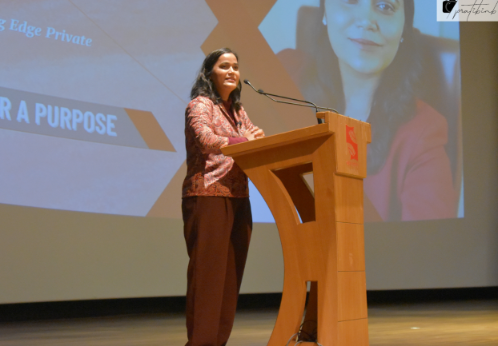 Image: Lt. Cdr. (Dr.) Sadhanaa Giri speaking on "In Quest of a Purpose"
After a short, we brought back our most loved segment of the event- Ardent Chats 2.0, made a triumphant return for its 2nd edition, spotlighting the theme "Flames to Fight: Resilience to Power." This captivating event was expertly hosted by CA Shubhraa Maheshwari and featured two distinguished speakers, Dr. Chinnababu Sunkavalli, a Surgical Oncologist, and Dr. Gautam Mukherjee, CEO & Co-Founder of Sportify Asia. They shared their awe-inspiring tales of resilience in the face of adversity, highlighting how inner strength and determination can ignite transformation. The discourse ingeniously circled around resilience as an unwavering force propelling young aspirants to cultivate this indispensable life skill, fostering impactful discussions that embolden and uplift the community.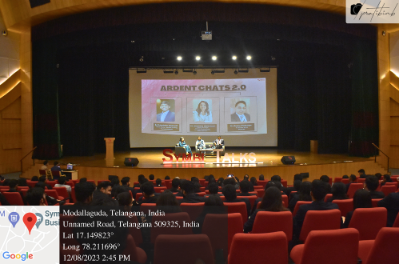 Image: Speakers engaging in a passionate conversation for Ardent Chats 2.0
These two days, of motivation, strength, and powerful stories compelled the students to have an introspection and reflect upon their actions and goals. These impactful lessons were brought forth by SymbiTalks 8.0.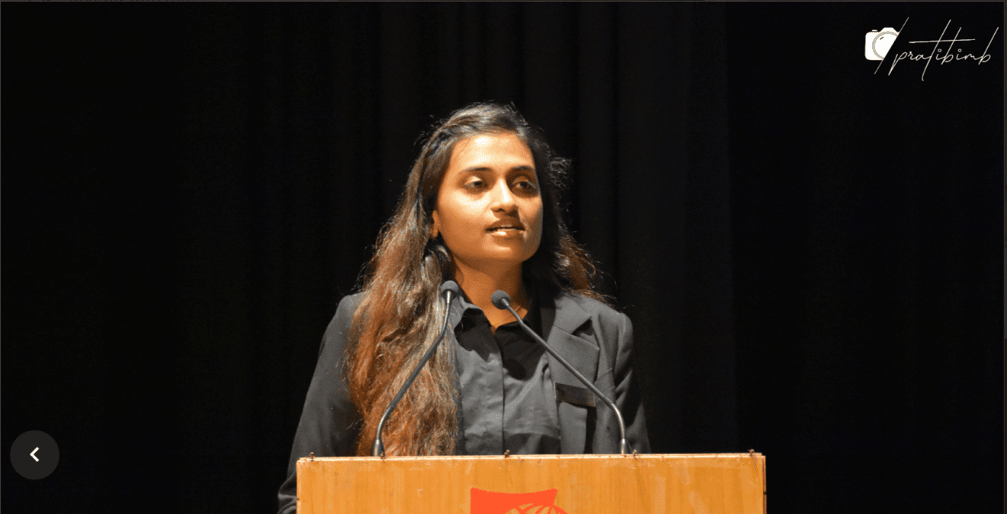 Ms. Aishwarya Rateesh, Second in Command, Corporate Interaction Cell of SIBM Hyderabad, delivered a vote of thanks before calling the event to a close.