International Women's Celebrations at NTPC
Summary
Event NameInternational Women's Celebrations at NTPC
ObjectiveTo create awareness regarding this year's theme of Innovation and technology for gender equality through educational sessions and interactive activities.
OutcomeThrough discussions all the female employees of NTPC were involved in understanding how innovation and technology plays a crucial rule for a women's growth and upliftment in a society. The employees thoroughly enjoyed both the sessions organised as they the interactive activities throws light on important skills like team work and creativity.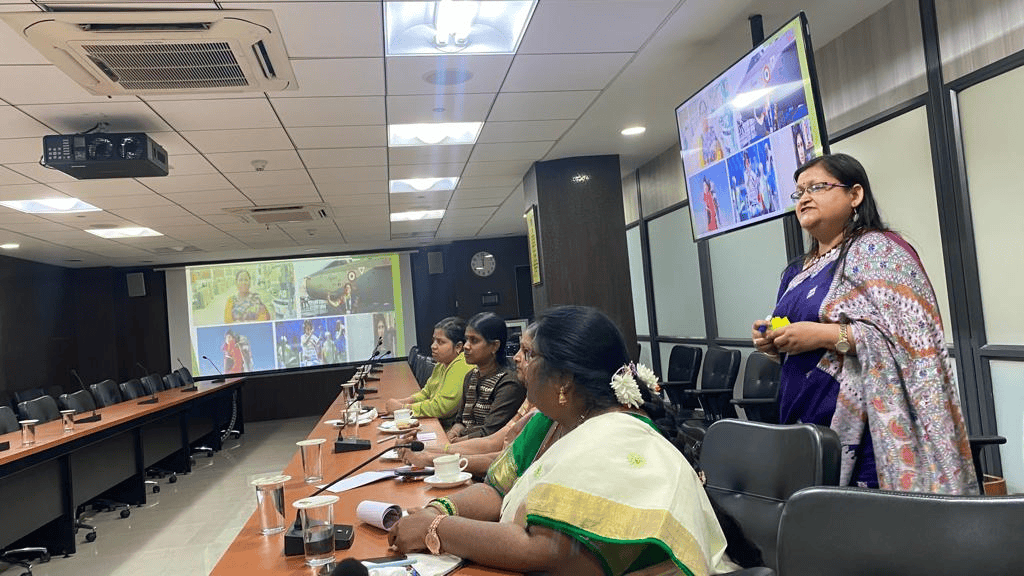 Dr. Ridhi Rani taking a session for the employees of NTPC
The Report
As a part of the International Women's week celebrations, Shakti -Women Development and Social Responsibility Cell of SIBM Hyderabad organised an event at NTPC, Kavadiguda, Hyderabad. The event started with an introduction of the guest Dr. Ridhi Rani, Assistant Professor (HR) faculty in-charge of Shakti (WDC and ISR Cell SIBM). The session was started by introducing the topics followed by an Ice-breaking activity for the employees, where everyone has to introduce themselves using an adjective.
After which, Dr. Ridhi Rani began with her introductory session on International Women's Day and has explained why it is important to celebrate one where women are able to embrace equity which is the core theme of IWD 2023.During her session, she has quoted examples of famous female personalities like Tessy Thomas: The missile women of India, Arunima Sinha: Indian Mountaineer & sportswoman and many more. As the session proceeded, she also spread awareness regarding social issues that are being faced by women in past and what is the situation currently in India and across the globe. Various examples, anecdotes and data were shared about the issues faced by women at the global level. Also some of the alarming issues faced by women at the workplace. She also covered various rights of women in the Indian constitution.
An activity was also conducted by Dr. Ridhi Rani wherein employees were divided into teams of 4 to 5 members and were asked to write down their ideas related to digital technologies which can benefit women. The only criteria of the activity were that they were asked to be creative & to use their corporate experiences. The activity received huge response as everyone felt delighted to come up ideas which are usually faced by women in daily life. Its time that women leaders understand the inequities which are still prevalent and be compassionate towards their fellow beings and support each other in whatever possible ways they can. Then the real motto of celebrating women 's day can be achieved.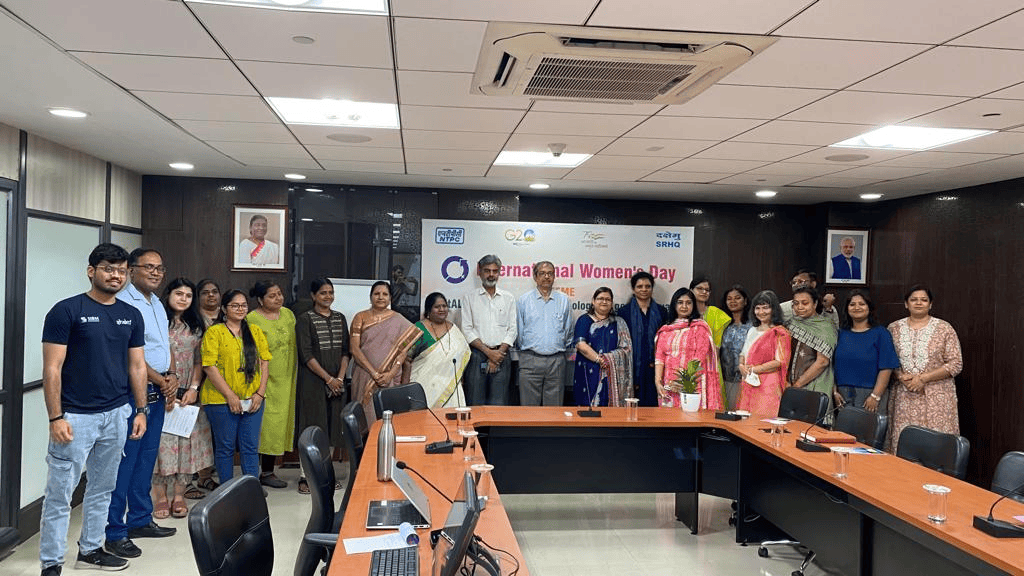 Mr. Srinivas M, Dr. Ridhi Rani and team Shakti with NTPC
To lighten up the environment, the further event was conducted by team members of Shakti. The first activity conducted was Pictionary where the employees were divided into teams of 3 and were asked to draw the word given to them on a white board and the rest of their team has to guess the pictures drawn. The last and final activity conducted was Word association activity. This activity is all about presence of mind and the ability to recall the associated words. So, for this one word will be given by the moderator to the audience, one person will immediately say some word that they are able to recall after listening to that initial word. One after the other, people will keep on adding words that they think are connected to each other. It is a relay activity where if a person says something irrelevant to the prior word or miss out on their turn, they will be out of the game. Eventually, we will come to the final 2 participants where we might start with a new word in order to test the concentration by breaking the existing flow. This activity will enhance their thinking capabilities.
Overall, through the interactive session and games team Shakti had celebrated an impactful International Women's Week with all the female employees at NTPC.