Guest Lecture on Attitude and Success By Dr. Esha Sharma
On 7th July 2017, Symbiosis Institute of Business Management in collaboration with CII IWN (Indian Women network organized a guest lecture welcoming Dr Esha Sharma, Director of learning and organizational development transitional solutions Onc, Canada along with Miss Shobha Dixit, Chairwoman of CII IWN, Telegana.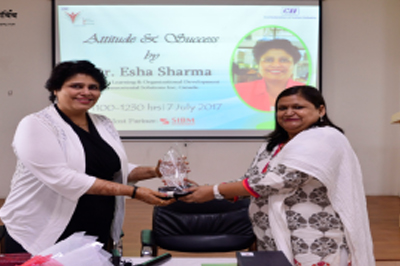 In Picture : Dr. Ridhi Rani Presenting Memento to Dr. Esha Sharma
The students of SIBM – Hyderabad were enlightened by the wise words of Dr Esha Sharma who focussed on addressing the young crowd regarding Attitude and Success in life. She conducted an interactive session with the students, by explaining to them the true meaning of success in life. Success having different definitions for different people and constant aspirations makes us arrive at the conclusion that success is not a level, but rather a determination. It varies at every point of life and changes from person to person. She also encouraged the students to not think of success in terms of wealth, but to incorporate their own value system into it and have small goals and great confidence in themselves, which will eventually bring them to true success.
She discussed about how important it is to be flexible in order to sustain corporate life and also about the importance of understanding other cultures to remove barriers. She encouraged the students to find smart ways to problem solving and addressed them to get control over any fear of failure.
She provided a great motivation for the young entrepreneurs amongst the crowd by asking them to be job providers instead of job seekers and motivated the students to find reasons every day in life to celebrate.
The event came to an end with Miss Shobha Dixit giving the vote of thanks and discussing about the activities of CII IWN, Telegana.