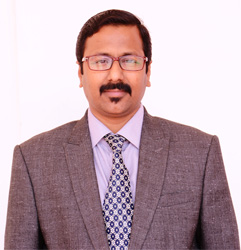 Dr. Ravi Kumar Jain
Director
M.B.A. , Ph.D.
Total Experience - 18 years
Short Description About Faculty :
Dr. Ravi Kumar Jain is an Accomplished Teacher, Trainer, Prolific Researcher and an Able Academic Administrator. He is a Doctorate in Business Management with Masters in Business Administration (Finance) and PGD in ICT management. He has rich experience of more than 17 years in the area of family business management, teaching and training, research & consulting and academic administration.
He has held various academic and administrative positions at Icfai Research Center, Hyderabad; Symbiosis International University, Pune; and in the faculty of Finance at IBS- Hyderabad campus. He is the founding Director of Symbiosis Institute of Business Management, Hyderabad Campus. He has more than 100 international and national publications to his credit.
Dr. Kumar has authored and edited several books in the area of business management, banking, finance and ICT management and serves on several editorial boards of international refereed journals. He has organized several International Conferences, and has been actively engaged in training & development of faculty and executives in Academic and Corporate Fields. He has conducted executive training programs at various organizations including Indian railways, Canara Bank, SBI, IDBI, Corporation banks & several other banks and IT services companies, Indian armed forces to name a few. He is an expert trainer in case method teaching and is a resource person for several AICTE sponsored faculty training program at various universities including Hyderabad central University.
A person with global outlook, he is Well exposed to International Universities and education system in the USA, Canada, UK, Singapore, Dubai, Malaysia among other Asian and middle eastern countries by engaging in teaching assignments, joint research projects, and facilitating institution level collaborations.
Dr. Ravi Kumar Jain is the President of ISDSI (Indian sub-continent region of Decision Sciences Institution, headquartered in Huston, USA) (2014-16).
Dr. Ravi Kumar Jain is presently serving as board of directors as Vice President of Asia Pacific Decision Sciences Institution Division, headquartered in Huston, U.S.A (2017-19).