GE - PIWAT FAQs
1.What is GE-PIWAT?
GE-PIWAT is a selection process for the admission of students to MBA Programme. It consists of Group Exercise, Personal Interview & Written Ability Test.
---
2.When is the GE-PIWAT process scheduled for?
The GE-PIWAT sessions will be conducted on the following dates : 7th ,8th, 9th, 13th, 14th, 15th, and 16th February 2020
---
3.Where is the GE-PIWAT process being held?
The GE-PIWAT process will be held at the SIBM-Hyderabad campus.
The address is as under
Hyderabad Survey No. 292, Off Bangalore Highway (Old Highway road), Village: Modallaguda, Mandal: Nandigama, District: Rangareddy, Near Hyderabad-509217, State: Telangana, India. Phone. 040-27232100/300/301/178
---
4.How does one reach the campus?
Route map is given below for reference.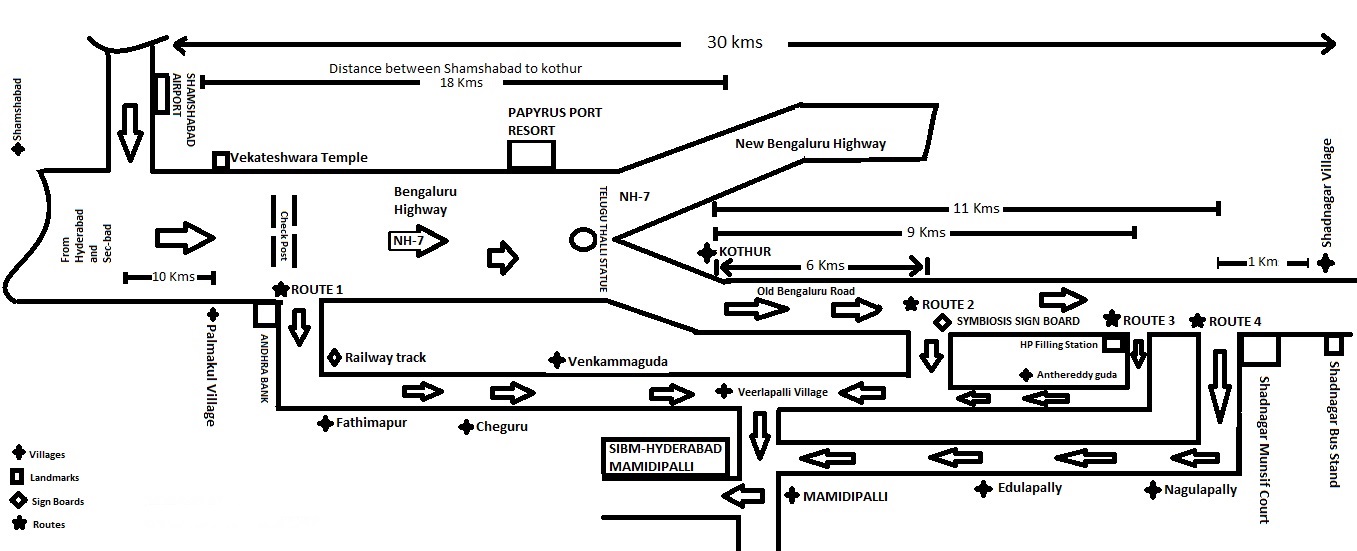 Google Maps can also be referred.
---
5.Will the institute provide any transport facilities?
The institute will provide free transport facility from Hyderabad city.
Transport facility will be provided free of cost subject to the number of requisitions we receive. Your requisition should reach us on Transport Request Form on or before
5th February 2020.
The buses that start to the campus from the city i.e Lakdi-Ka-Pul Railway station parking bay and it will be travelling through Aaram Ghar Bus Stop and Shamshabad Village Main Road (Near Karachi Bakery).
Scheduled of Buses
1.
Lakdi-Ka-Pul-07:30am
Aaram Ghar-08:00am
Shamshabad-08:15am
Campus-09:00am
2.
Lakdi-Ka-Pul-10:00am
Aaram Ghar-10:30am
Shamshabad-10:45am
Campus-11:45am
---
There will be bus facility from the campus to Hyderabad after the GEPIWAT process
6.Is there any paid transport facility available?
S#
Name of the Travels
Contact person Name
Mobile
1.
M/s. Akbar Travels
Mr. Shafiq
9030141200
2.
M/s. Ganesh Travels
Mr. Ramesh
9908934397
Mr. Ganesh
9603758909
You can avail student discounts from them by referring to the GEPIWAT process at SIBM-H.
---
7.What are the public transport systems available to reach the campus?
By Road -
There are state run buses operated from Hyderabad city. You may take a Bus from Mahatma Gandhi Bus Station (MGBS-Koti) to Shadnagar.
| | |
| --- | --- |
| By Rail - | Tungabadra Express: Secunderabad @7.30 am – Kachiguda @7.45 am, Shadnagar @ 9.00 am |
| | Venkatadri Express: Kachiguda@8.05 pm, Shadnagar @ 8.55pm |
| | Yashwanthpur Express: Kachiguda @9.05 pm, Shadnagar @ 9.55 pm |
Note:
Auto rickshaws are available from Shadnagar to SIBM campus (Approx. 12 kms).
---
8.What is the reporting time for the GE-PIWAT sessions?
The processes commence from -

9.00am for the morning session.
12.00noon for the afternoon session.
---
9.Is there any arrangement of accommodation on the campus for the participants of GE-PIWAT process?
Yes, Guest House accommodation for family and hostel room for individual aspirant will be provided on a first come first served basis. (Rooms will be allotted on a sharing basis). The facility is provided for 24 hours only. The accommodation can be booked online on submitting Accommodation Request form,
The facility is subject to availability
Charges for Guest House per day: Rs. 2500 + GST (For two persons, extra person 1000/- extra)
Charges for Hostel accommodation per day: Rs. 600
For any further information on accommodation, please write to campus administrator campusadmin.hyd@symbiosis.ac.in
---
10.Are there any hotels near to the campus?
Yes, there are hotels nearby; the nearest being Shamshabad, which is 30 kms away from the campus. The nearby hotels are listed here click here for the list
11.What are the facilities available on the campus?
SIBM-Hyderabad is a fully residential campus with excellent facilities such as well-equipped Class Rooms, Library, State-of-the- Art Auditorium, Amphitheater, sports facilities, Mess and Student Quarters, Shopping Complex, Modern Laundry Facility, Modern Gym, Recreation and wellness Center
---
12.Can I know something about placements and Internships?
The placements has been very encouraging, with reputed companies like KPMG, HDFC AMC, Amazon, SBI Life, Mcnroe, Deloitte, HDFC Bank, HDFC Life, BAJAJ FINSERV, Golden Hills, Tech Mahindra, ICICI Prudential, Capital First, Future Supply Chain, ITC Hotels, Hexaware, etc., considering SIBM-H as a destination for campus placements and the average package of top decile is 9.97 lakhs per annum. Click Here for Interim Placement Report of 2018-20 Batch
The process of internship selection is currently going on for the batch of 2018-20, companies like Deloitte, TCS, HCL, Federal Bank, Hexaware, SBI Life, HDFC Life, Invesco, DHL, GATI, IDFC First Bank, WIPRO, Berkadia, Silverpeople, Tech Mahendra, ICICI Prudential, Spandana, Excelra, Odessa Technologies, Fractal, Fresh Prints, Highradius, etc., are engaging with SIBM Hyderabad for Internships.
---
13.What are the documents that will be required for the GE-PIWAT process?
The list of required documents is as given below:
SNAP Admit Card
SNAP Score Card
GE-PIWAT Call Letter
Government recognized identification photo ID – any one of these -(Passport, PAN card, Aadhar card, Driving license, Voter card, Ration card)
10th Standard mark sheets and passing certificate
12th Standard mark sheets and passing certificate
Graduation mark sheets (all semesters)
Graduation passing certificate / Degree certificate
Work Experience Certificate (if any)
Co-curricular or Extra-curricular certificates (if any)
Caste Certificate, Kashmiri Migrant Certificate, Differently Abled Certificate (If any)
Passport size Photographs (3 nos.)
Bio-Data /Resume
AIU equivalence certificate for foreign degree holders


- Aspirants need to bring originals as well as attested photocopies of the above documents.