Prof. Dr. S B Mujumdar (M.Sc. Ph.D.)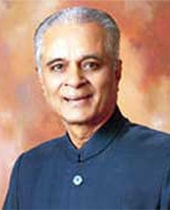 Symbiosis Institute of Business Management (S.I.B.M) is the flagship institute of Symbiosis International University. It has the legacy of long history and rich heritage of alumni who are shining in blue chip companies across India and abroad.
I am proud that S.I.B.M. Hyderabad, a city known for its IT enterprises, is the preferred destination of students from different States of India. I am confident that the student's bright careers will be shaped on the campus and every effort will be made to develop their holistic personality and enhance their communication skills.
I wish the students all the best. God Bless them all !