Dr.Rajani Gupte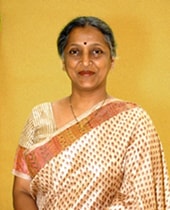 The Symbiosis Institute of Business Management, Hyderabad is the youngest Institute under the ambit of the Symbiosis International University, Pune. The legacy and traditions of Symbiosis are as firmly embedded in all the processes at this Institute, as they are at each of the Institutes of Symbiosis.
The beautiful, sprawling campus of this Institute is just ideal for the pursuit of knowledge. Equipped with the state of art facilities, like smart classrooms, library, sophistically built hostels, good canteen, play grounds with various courts, a gym along with a medical clinic equipped with emergency medicines governed by a doctor & nurses, are all completely furnished to give students an extended homely feel, with the care and concern of the friendly faculty and staff.
Being at Symbiosis is an experience that none shall ever forget! The teaching – learning environment and the value-based education ensures a solid foundation for the student to build a firm career. In addition, the soft skills needed for a successful career ahead are embedded in activities planned throughout the duration of the program. SIBM-Hyderabad provides ample opportunity for the students to align themselves to the global corporate requirements and deliver excellence.
Wishing you a great learning experience at SIBM-Hyderabad and a great career thereafter!